Lat update: May 10, 2009.
The new version (0.75-alpha) of RPG.XLS engine is released. The RPG Stats (Attributes and Skills) now operate in the game, you can also trade with wandering merchant, harvest alchemical components and use more items - food and drink.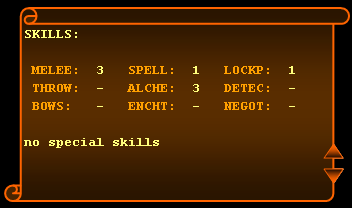 Last update: Apr 7, 2009.
I expanded chapter three of the engine design section - it now presents how RPG Statistics are managed in the game. This chapter features two screenshots from the 0.75-alpha RPG.XLS engine that should be released in about three weeks.
Update: Jan 31, 2009.
The new version - 0.73-alpha - of RPG.XLS engine is available. You can now switch between stages (visit Ballock Mine location). Some items are now useable - different light sources, scroll, and books. You may also read and add entries to the self-updating journal.
Update: Nov 12, 2008.
The name "RPG.XLS" refers to technical nature of the project. Itís high time to reveal the title of the future role playing game.

The Buried Curse will be a fantasy-noir role playing game. The updated RPG System section tells more about the settings and scenario.
Update: Oct 22, 2008.
After several months, the 0.70-alpha version of RPG.XLS Engine is finally available. It features completely rewritten code, eight-direction keyboard and mouse movement, new inventory, examine-object function and few other additions. The routines used in this version are those that will be used in actual game.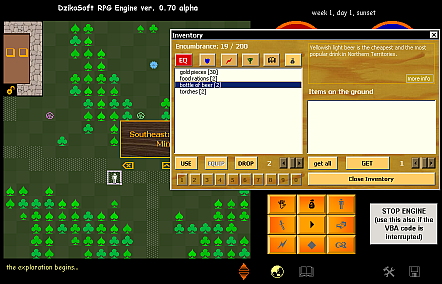 The good news is that next alpha versions will be build upon this one, by simply adding new features, so the interval between releasing next versions will be now much shorter (like four to eight weeks).
Update: Jul 21, 2008.
Discussion Forum is now available at DzikoSoft, and it features special section on RPG.XLS Project - I encourage Excel Gamers to register and discuss about the project. You feedback is much appreciated!

Update: Jul 9, 2008.
I added another chapter to engine design section - it presents some examples of performance optimization. Meanwhile, I am working on version 0.70a of RPG.XLS engine - it still requires quite a lot of work, but I hope to finish it in around two months.
Update: Apr 24, 2008.
I added the Screenshots Gallery, containing several images, slightly bigger than those used in other sections of the Project. The Gallery will document the development process as well as present some new ideas that are open to discussion, for example, the design of the interface.
Update: Apr 12, 2008.
The engine design section was expanded and split into two chapters. Now, chapter one introduces graphics engine as well as shows how the map editor works in RPG.XLS Construction Set. Chapter two includes a basic description of map object model and conversation engine.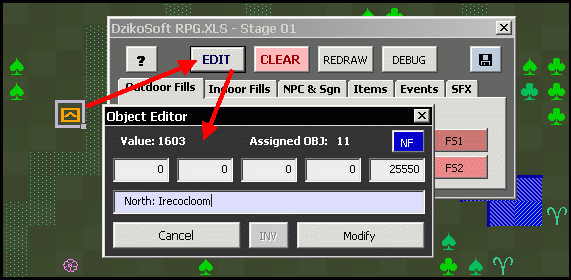 Update: Mar 12, 2008.
I added a new section to the Project: RPG Settings & Mechanics. It consists of two chapters and includes the overview of fantasy world, game design principles, RPG skillset, combat and magic system. It helps you to discover how the actual game will look like. Most design decision are not final, and I will appreciate any comments and suggestions.
Update: Feb 28, 2008.
New version (0.60a) of RPG.XLS Engine is now available for download. It includes some basic interactions (like reading road signs) and simple inventory management.

This is the last early-alpha version that uses simplified VBA routines. Next version will utilize more sophisticated routines closer to those of actual game. It requires several months to build the next upgraded version, but meanwhile I will expand other parts of RPG.XLS Project - the engine design section and a new section regarding RPG settings and mechanics.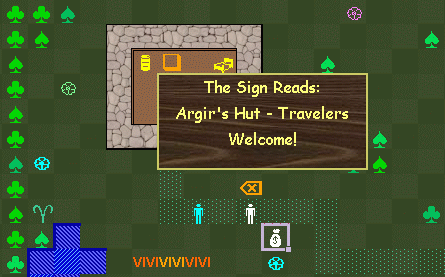 Update: Nov 27, 2007.
New version (0.55a) of RPG.XLS Engine is now available for download. It includes conversation mechanics based on dialogue trees. I also added new section to the project - the VBA game programmers may find useful - the technical design of RPG Engine.
First update: Sep 03, 2007.
Project RPG.XLS - Role Playing Game in MS Excel - has started while DzikoSoft Website is approaching its first anniversary. The first, extremely basic alpha-version of RPG engine is available in download section - at that moment you can test the graphics and movement on the map. Your feedback is greatly appreciated.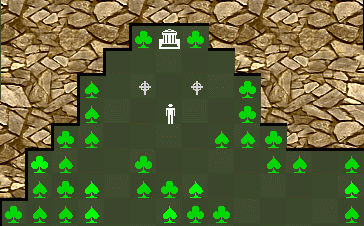 Excel is a registered trademark of the Microsoft Corporation®
All contents Copyright &copy 2006-2009 Bartlomiej Dzik