I am a great fan of computer role playing games. In 1995, I decided to make my own fantasy CRPG - a simple shareware game for MS DOS. Lords of Doom: The Black God was released in April, 1996. I made all programming, graphics and texts, and my brother Michal composed ingame music in MIDI format. The story of Lords of Doom focuses on the epic quest of a lonely hero to destroy evil demi-god Xyrrugoth.
Taking into account the time needed to make this game, The Black God did not reach a commercial success, but I received some registration and positive comments from all over the world. Lords of Doom was also entitled "best Polish shareware game" by Polish magazine "PC Shareware" (issue 11/96).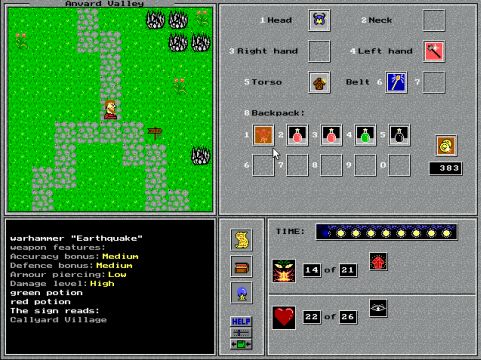 As you can judge from the screenshot, the game had simple, 16-color VGA graphics. There were also hundreds of typos and errors in ingame texts. Combat was static and limited to the choice of opponent and the type of attack. On the other hand, game featured some advanced RPG elements like dialogue trees or flexible problem solving (doors can be opened with a key, lockpicked, bashed down or bypassed by magic). Many players prized the engaging story.
If you would like to try this game, you can download it from archived FTP resources of former Walnut Creek CDROM or directly from DzikoSoft - the file size is 495kb. Take into account that these files are ten-year old, and information in *.doc files regarding contacts addresses, email and registration is now void. Lords of Doom is now freeware, you may use serial number sn38689825 to upgrade it to the full version. Please email me if you have any questions or comments regarding the game.
Note also: Lords of Doom is a DOS game - you may run it from Windows XP and Windows 2000 command prompt, but some characters will be displayed incorrectly and there may be problems with switching between the game and Windows applications. I strongly recommend playing Lords of Doom under the DosBox emulator.
Update Jan 10, 2008: The game was recently listed on DOS Game Museum website, which you may use it as an alternate download site. Also, the page at DOS Museum features a YouTube movie showing the introduction, character creation and a few minutes of gameplay of Lords of Doom.
back to DzikoSoft Home